If the thought of messy glue and glitter is too much to bear, have no fear, there are much simpler ways to get creative. Shannon Wong-Nizic of Oh Creative Day, shares her top tips for mess-free, stress-free craft this Xmas time.
Craft kit – Craft sessions don't need to be big, grand experiences. Choose items that are fun and effective to use.  The most basic kit includes: scissors, clear glue or Sellotape, coloured card or paper and a set of coloured pens or markers.
Stay simple – Whenever I'm feeling a bit uninspired but want to set up a simple crafty experience for my kids, I pull out coloured tape. It's like the hero of the arts and crafts world. It's simple to use, low-mess and allows mini-makers to practise some fine motor skills and engage in sensory play.
Creative Colours – Don't feel you need to stick to traditional Christmas colours such as red, gold and green. Three is a perfect number of colours to choose but there's no reason why you can't have a rainbow Christmas!
Process not product – Often as adults we focus on what we expect our child to produce from a creative activity. If we shift our focus to the process, it can make the whole experience a lot more enjoyable for everybody. When children are engaged with the creating process, they are happy to just create and explore.
Free play – Christmas is a great time to encourage creativity. Try leaving easy-to-use, low-mess art materials out on the table so that kids can create whenever and however they please. Pintor Paint Markers are fabulous for kids to creatively and independently create with.
Join in – Have fun creating alongside your children. Provide the materials to everybody and create exactly what is in your mind and let the kids create what is exactly in their minds. You're then in control of your process and product and not imposing your ideas onto their process. It models to your children that you value the act of creating.
Shannon has created three magical activities for us using Pintor Paint Markers. Hang up your garlands wherever you want to spread your Christmas cheer and welcome the silly season by hiding your elves around the house!
Download her free Christmas activity templates here!
"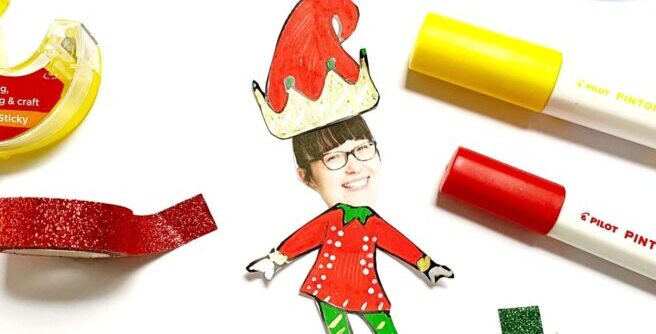 "
About Author
Shannon Wong-Nizic
Shannon Wong-Nizic is a teacher, mum of three and avid crafter.  An enthusiastic fan of pom poms, PVA and paint, she runs popular blog and online parenting resource dedicated to all things creative, ohcreativeday.com and has a growing community of 30,000 followers on Instagram.