PILOT Pen reached out to collaborate on the release of their new Fude Makase & Shunpitsu collections and it was so easy to work with them as our brand values and missions were so aligned.
PILOT aspires to create writing tools to connect handwriting with the art of writing. The Psycho Letterer aspires to demonstrate & teach lettering as a creative outlet and skill that can be used to ground yourself & create a safe space for your thoughts.
The project consisted of creating a guide and imagery that would make learning brush lettering approachable while demonstrating the multiple ways it can be used, mainly bullet journalling.
My Experience
After first receiving the pens, I jumped straight into trying to use all of them to create all the pieces in all of the styles I imagined that I 'should' be making. This didn't last long and I burnt out in a few days, so I thought back to how in the past I'd built new habits by adding them to current ones. Already an avid journaller and as an experiment to see what I would do, I packed the pens in my day bag with my journal that was usually kept by my bed, so that they were now always with me.
My little journalling kit allowed me to really get to know the pens and journal more frequently & naturally throughout the day. I started using the pens to letter out little sentences and quotes that were resonating with me at that moment, turning my journal into a creative outlet for my hand-lettered thoughts.
What is Brush Lettering?
Brush Lettering focuses on the creation or drawing of words with a tool that has a brush tip, typically a brush or a brush pen. It's not writing, where that functions to record and deliver a message. Instead lettering is a creative skill that can be used as an outlet to explore creative expression amplifying the meaning behind words chosen. In the creative professional field, lettering can be used to create fonts, logos, brand identities, signage & signwriting, and wedding & events.
The Pens
Shunpitsu
The Shunpitsu come in two nib sizes, the smaller comes in two colours, black & grey, and the larger comes in black. All nibs are sturdy, don't fray and work with incredibly saturated inks that are perfect for the thicker, looser & messier styles. The nibs outlast the pens ink capacity, so as the ink runs dry it's awesome to play with the changing & rougher brush textures.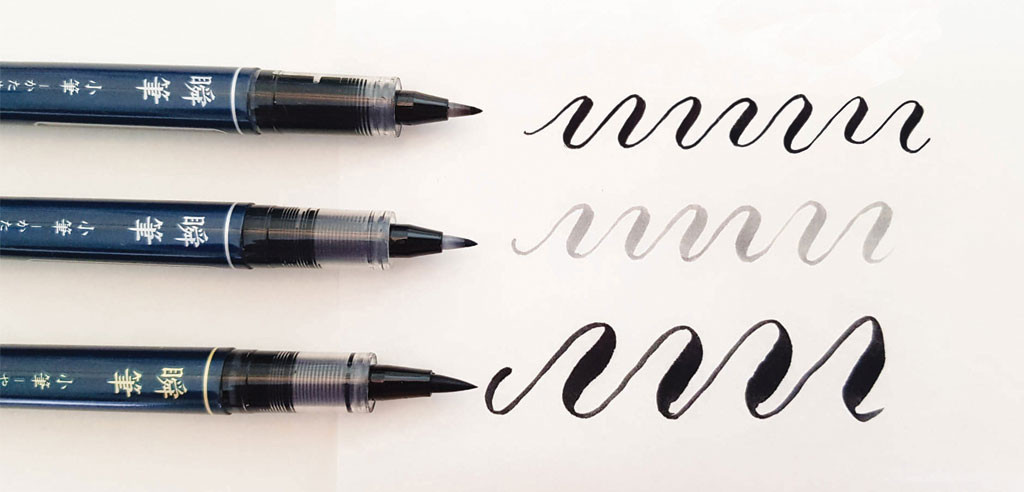 The Shunpitsu has the quickest ink drying time on the market which really helps to keep you in the flow so that you're not stopping to wait for the ink to dry. Just be wary that you may need an extra piece of paper underneath as the ink sinks through and can stain your working surface.
On the side, they also have little windows to see how much ink you have left. The smaller tip is perfect & very forgiving for beginner practice when learning to create smooth thick & thin strokes. The larger soft-tipped nib requires a different approach to create looser styles that are a step away from the standard brush lettering practice.
Shunpitsu Quick Dry Brush Pen
Pens
Slow down time and capture each fleeting moment with PILOT Shunpitsu's quick drying ink!
Buy Now
Fude Makase
The Fude Makase are a great follow up pen for beginners to develop a gentler touch to achieve a variety of styles.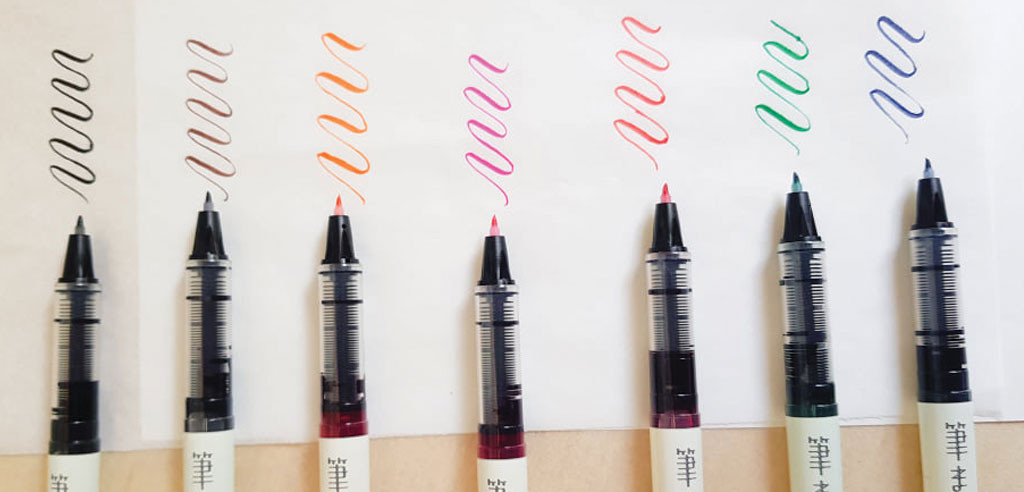 The Fude Makase has the most incredible vibrant & dense colours that hold and pair well when the different coloured strokes overlap. The well made and dense nibs means they don't fray and blunt very slowly. They don't bounce back fully making them fun to 'shape' to create satisfyingly thick to hairline thin strokes catering for easy beginner upright brush lettering, traditional copperplate calligraphy and loose, detailed illustrations.
Fude Makase Brush Pen
Pens
Capture every detail with PILOT's Extra Fine Fude Makase, which means the "Brush you can trust".
Buy Now
Journalling
Later I started getting into the habit of reviewing my journals to read all the highlighted lettering pieces I had created over the weeks. It was cool to see how my thoughts slowly changed over time. Soon those pieces started getting longer & a little bit more abstract. These little pieces became personal mantras that I would use when I wanted to reflect or ground myself with words that I had created by me for me. What's exciting is that these little mantras are becoming a little longer and more abstract that I am now exploring as poetry.
Using the Guide
The guide is the bare essential overview on how to get started with brush lettering by providing simple lettering drills to understand how the basic strokes build letters. Drawing from my experiences hosting brush lettering workshops, I included only the most common beginner troubleshooting problems.
The guide is intended to be folded brochure style so that it is small, portable & durable to pack away or take with you out and about. You can letter directly onto the guide or overlay and letter onto tracing paper or torn sheets from baking paper rolls. The guide focuses on brush control so you can switch up pens to use a rollerball or brushes to practice with different mediums.
Resource (1.62mb PDF)
The Psycho Letterer's Guide to Brush Lettering
The guide is the bare essential overview on how to get started with brush lettering by providing simple lettering drills to understand how the basic strokes build letters.
Download Guide
Where to use Brush Lettering?
1. Bullet Journalling
Bullet journaling is a list based journalling system that is built around ticking off lists with different icons or 'bullets.' The lists usually stem from a daily list that flows into the next, that is often based around larger weekly, monthly to yearly goal checklists. BUJO's are an intuitive journaling method to help work towards large goals in small steps.
BUJO's can get super detailed & complex so like starting anything new, it's best to keep to simple, minimal and functional designs to get those daily habits to see if it's a system that even works for you. If it does, BUJO's are another way to give yourself the time to reflect and practise self-compassion to create a deeper & clearer understanding of yourself and the pieces of your life.
2. Affirmations
Affirmations are repeated declarations of truth to yourself to slowly change your opinion & attitude to become more accepting of yourself as a whole.
Affirmations are statements usually starting with 'I am….'
Whereas iffirmations are questions that start with 'what if...'
The idea is that when you question something new about yourself, the statement becomes more real & believable, becoming easier to visualise the possibilities of what would happen if you truly embodied it.
Brush lettering compliments other self-care writing activities like gratitudes because it personalises the words that you create. Lettering is slower & more deliberate than writing so the words you choose to letter mean that little bit more. Focusing on practising brush pulls your focus into the physical moment.
About Author
Gemma Collins
My name is Gemma & I work for myself as The Psycho Letterer. I am a graphic designer specialising in lettering & calligraphy. I use lettering to humanise design projects such as logos, brand identities, imagery & bespoke pieces by allowing the little imperfections in hand lettering to come through & remain in the final designs. I also host workshops in the Sunshine Coast & SE QLD teaching the foundations of lettering and how it can be used as another little way to stay in touch with yourself.